Bitcoin supply on centralized exchanges fell to the mark of 2.51 million coins, renewing the lowest since November 2018. This is evidenced by the data of Glassnode.

The outflow of BTC from centralized trading platforms to safer non-custodial wallets may indicate that market participants prefer long-term investment strategies.
Another possible reason is sanctions against Russia, under which a number of cryptocurrency exchanges have blocked the accounts of users from that region. Wishing to secure their assets, the latter prefer to control private keys on their own.
Major platforms like Binance and Kraken said they will not unilaterally block clients from Russia, but will take this step at the request of global regulators.
Earlier, Binance stopped working with the cards of Russian sanctioned banks. The company also blocked transactions with Visa and Mastercard cards issued in Russia.
A similar trend is observed with regard to the second most capitalized cryptocurrency. Ethereum's supply on centralized platforms fell to 21.6 million ETH, renewing its lowest since September 2018.
At the same time, the share of blocked ETH in DeFi-protocol continues to be quite high. In October 2021, the figure peaked above 28% – it now stands at 27.55%.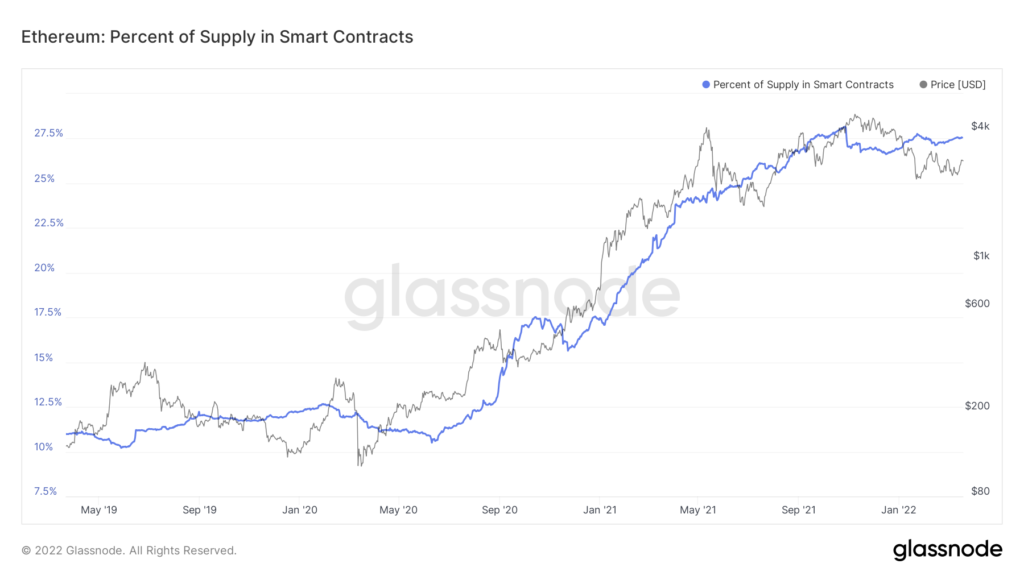 According to CoinGecko, bitcoin rose 7.7% over the past seven days, Ethereum rose 13.5%